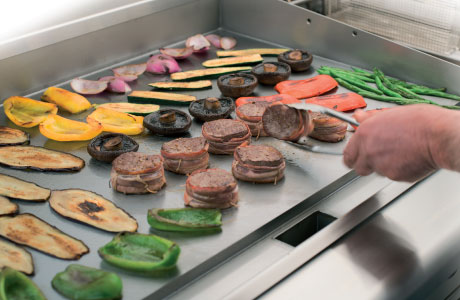 Trendy food that can be cooked on a Waldorf griddle
Highlights
There are many benefits that a griddle can bring to your kitchen. Ranking amongst the most versatile commercial kitchen appliances, the griddle may look simple but can be used for the preparation of an enormous range of different dishes. You'll find them in almost every culture's cuisine, and their simplicity has meant that chefs across the world have turned to them for inspiration when coming up with unique twists on classic dishes.

Whether that's a breakfast staple, a sweet dessert or a magnificent main course, a griddle provides the freedom to take even the most common of meals and make it trendy, modern and chic.The Waldorf griddle is quickly becoming the go-to choice of commercial kitchen equipment for many restaurants, independent cafes, mining camps, stadiums and food canteens. In this article, we'll run through three different ways that businesses can use a stylish griddle from Waldorf Bold to produce fresh twists on old favourites.






1. Big breakfast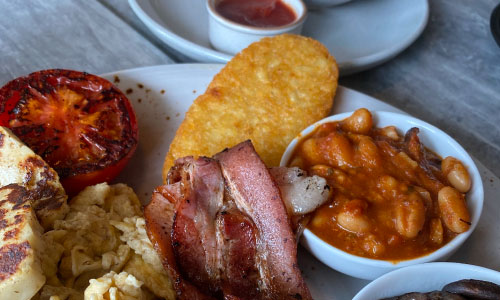 Long regarded as the most important meal of the day, breakfast is something that can be a bit dull for most people, usually consisting of whatever is quickest and easiest before they rush off to work.
The weekends are an opportunity to change that, and when customers decide they want a break from toast or cereal, you'll want to capture their imaginations with a big breakfast that features everything they could ask for. This is where the griddle comes in handy, as its even, flat surface allows chefs to cook a wide range of different meal components at once.
What to include in your big breakfast is up to you, but if you're looking more than the simple bacon and egg combo – why not experiment with halloumi cheese, black pudding and veggies like asparagus or pumpkin? The options are limitless, and you can always tweak them to best suit the seasonal ingredients on hand.
2. Pancakes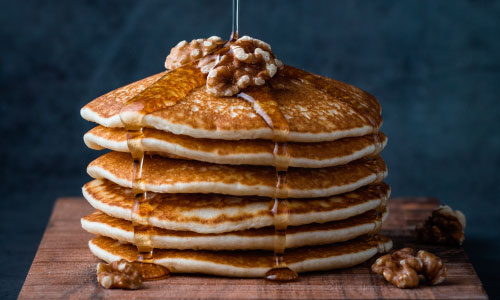 One of the benefits of making pancakes on a Waldorf griddle is they have a large, flat cooking surface which makes it easier to cook multiple pancakes or any food items at once.
They also have temperature control, which helps ensure that the food is cooked evenly and consistently. A Waldorf griddle has heating elements on both the top and the bottom of the griddle, allowing you to get the regulated temperature for your pancakes.
Additionally, we are seeing the trending alternative of souffle pancakes, those small thick fluffy pancakes are a good sweet treat worthwhile lining up for.
Using a griddle is a great solution for this as it allows you to make large batches at once, which can speed up service. The precise temperature control that griddles provide also helps to preserve the light and airy texture of the pancakes by cooking them at a low heat, which prevents the batter from deflating or browning too much on the surface.
3. Savour the flavour of juicy burgers and seafood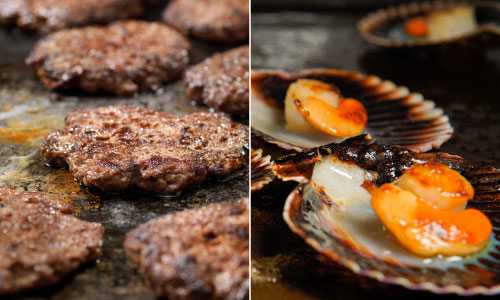 One of the great things about a griddle versus a pan is the even heating achieved across the whole surface is therefore perfect for preparing large portions where you need to speed up service and cook a variety of items to build up your dish.
The ability to create separate zones on the griddle allows for cooking different foods items such as fish, scallops, burger patties at the same time without the risk of flavour transfer.


Why Waldorf griddles are so popular
Waldorf griddles have been popular in the local market for over 50 years and have a compact 805mm depth saving valuable space in the kitchen. They feature high-quality stainless steel, top and bottom welded plates in the dedicated griddles, insulated burner boxes, and precise thermostatic controls. With the thermostatic control, you can regulate the temperature without burning. The lack of hot spots also means that food is cooked evenly, which helps to produce consistent results.
In addition to its multitasking capabilities, the Waldorf griddle is known for its reliability and efficiency, making it a popular choice for any kitchen. To clean the griddle, all you need is some vinegar or water without the need for harsh chemicals, which makes it a more eco-friendly option. The lack of harsh cleaning agents also makes it safer for food preparation and helps to maintain the integrity of the griddle's surface over time.
In conclusion, griddles are a must-have in any kitchen, offering versatility, ease of use and style. It can be configured with various base options such as ovens, bench model, cabinet base, leg stand or refrigerated base. Overall, griddles are designed to deliver top performance in any foodservice application model. Waldorf Bold heavy-duty gas griddles are available in 450,600,900 and 1200mm widths and electric griddles are available in 600, 900 and 1200mm widths.
All Waldorf Bold heavy-duty griddles feature seamless weld construction with a solid 20mm thick plate as standard, for maximum heat retention and distribution. They are thermostatically controlled for accurate temperature settings and are available in machine-finished mild steel plate, or the new mirror-chromed finish for more consistent performance. They also offer a choice of smooth or ribbed surfaces or a mixture of both. All commercial griddles are finished in stainless steel and can be matched with ranges, fryers, bratt pans, target tops and barbeque grills for a complete commercial kitchen solution.
For more information about how you can use a griddle or other cooking equipment from Waldorf Bold to switch up your kitchen's offerings, get in
touch with Blue Seal today.